RajBet offers outstanding betting experiences with a range of the best games online, as well as fantastic bonuses, promotions and many other perks. Along with exciting live dealer games, the site provides hundreds of online slots to choose from, including modern and classic slot machines. To access the wealth of betting services, sign up is easy, and so is banking – whether making deposits or withdrawals.
The RajBet team is there for you every step of the way to provide support and assistance in a quick and efficient way. Players are able to select some of the most popular payment methods available so playing online casino games for real money and withdrawing potential winnings is easy and convenient to do.
Deposit Methods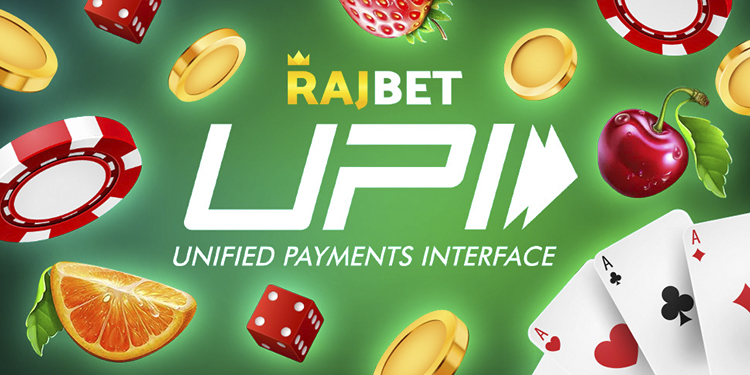 To play online casino games for real money at raj-bet.com, players will need to deposit funds into their account. What's great for Indian players is that transactions are conducted in rupees, so there are no conversion fees or anything like that. The maximum amount of deposit for each transaction is 200,000 INR while the minimum is 300 INR, so players of practically any bankroll type can take part. When it is time to make a deposit, our customers can choose the method that suits them best from the following list:
UPI
Netbanking
E-wallets
PhonePe
Rupay/Visa/Mastercard
PayTM
When making a deposit, funds can be expected to clear and be available for playing with virtually instantaneously. Depending on the method you choose, the rules, the procedures, and the conditions might vary slightly. Extra info can be found at the site or by contacting the support team.
How to Deposit at RajBet?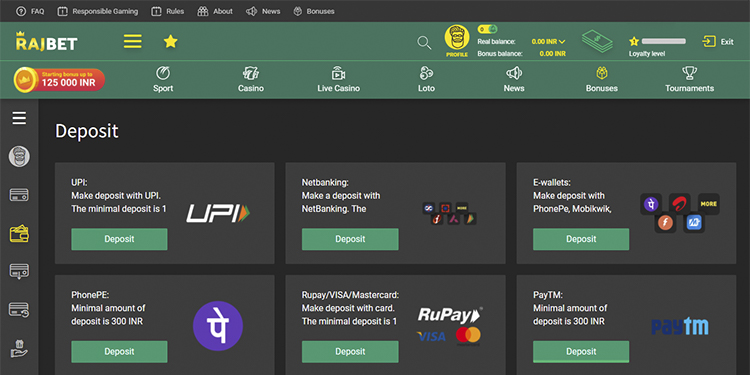 To proceed with making a deposit, users will first need to create an account with raj bet - if they don't already have one. The registration process is simple and convenient, so it will take less than a minute. After filling in the required information, new users will receive an email to verify their email address. Once confirmed, the new account will be activated and can be used to start playing the thrilling casino games.
After logging into your account, the deposit funds link can be found on the menu bar. When selected, users are taken to a page to complete the depositing of funds process. Pick a responsibly allocated bankroll amount, choose the preferred method of payment from the given options and then fill in the required information. Confirmed deposits should appear immediately on the account balance.
For any problems or issues you may have when depositing funds into your account, you can contact our diligent and helpful members of support. They are always there 24/7 to help and advice you. You can contact them via chat, social media or by using our contact page.
Withdrawal Options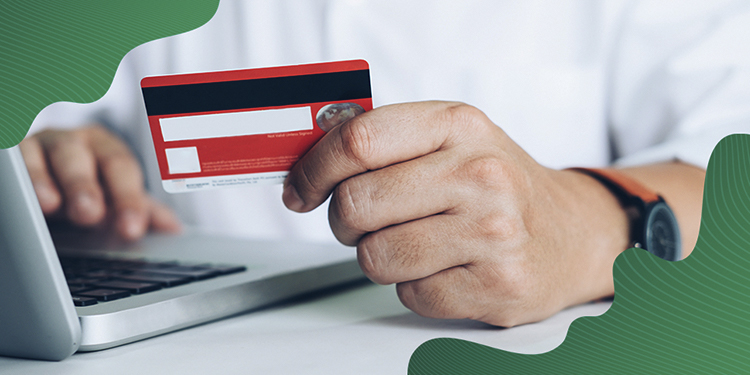 RajBet also provides several convenient ways of withdrawing funds from your account whenever you need them. After requesting a withdrawal, transactions are processed as swiftly as possible so the funds will be back to you with a minimum of fuss. The minimum amount you can withdraw from your account for a single transaction is 1,000 INR, and here are the withdrawal options you can make use of
Bank account
Netbanking
UPI
How to Withdraw Money from RajBet?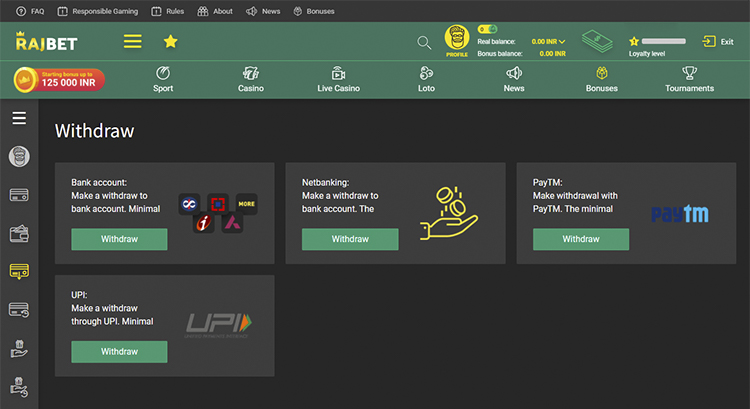 The procedure to withdraw funds from your account is similar to making a deposit. Once you login to your account, locate the menu bar on the left side of the account page, where you will find a cash withdrawal icon. When clicking the icon, you will be taken to a page where you can start the process of withdrawing your funds. You will be asked to select your preferred method of withdrawal; fill in your information, including the withdrawal amount, and once done, you are now ready to proceed with your withdrawal.
Withdrawal Conditions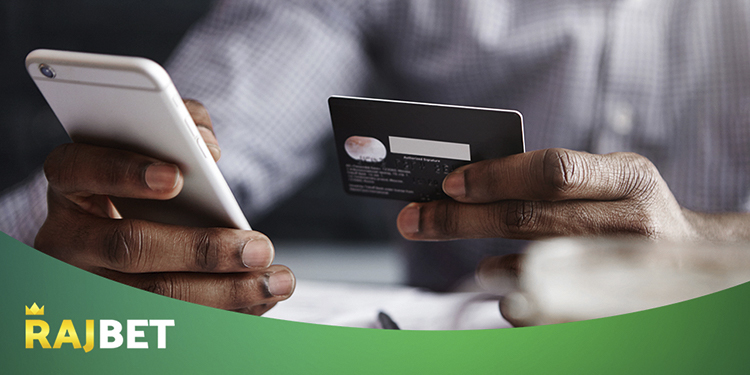 Everything at raj.bet has been set up with player experience in mind, so banking has been designed to be simple to use. RajBet does not charge any fees when customers make either deposits or withdrawals. The minimum amount for deposits is 300 INR, and the minimum amount for withdrawals is 1,000 INR.
The main thing to be aware of is that players may need to verify their identity when making a withdrawal. This is a standard step in the online gambling industry to help combat anti-money laundering and to protect legitimate players. More information can be found at the website or by reaching out to the helping support crew.
FAQ
Does RajBet accept Indian rupees?
Yes, RajBet was initially established to cater to the exciting Indian gambling market, and as such, players from India are able to make deposits or withdrawals in Indian rupees.
What is the minimum deposit at RajBet?
RajBet accepts a variety of well-known deposit methods, and the minimum amount required to make a deposit is 300 INR. Once the deposit has been made it will appear in your account for playing with more or less instantly.
What is RajBet's minimum withdrawal amount?
When you are ready to withdraw funds from your RajBet account, the minimum amount to do so is 1,000 INR.
May I deposit & Withdrawal in the RajBet app?
Yes, Android users who have downloaded the RajBet app to their mobile device can indeed make deposits and withdrawals through it. Bear in mind that anything you can do at the full desktop version of the website, you can do through the Android app as well. This includes banking, playing online casino games, and everything else.
Comments
Sundar90
07.05.2022
Rajbet give me a chance to play in rupees, I like it and I have bonuses in rupees as well! Great job recommended for sure!
Leave a Reply
Your email address will not be published. Required fields are marked *